Heather Benton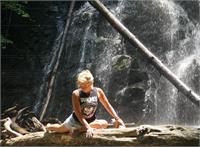 Heather Benton, ERYT-500
Heather was first introduced to yoga in a gym almost 30 years ago where she instantly fell in love with the language and the practice. She became a personal trainer and she found her studies as a personal trainer and her yoga practice seemed to go hand-in-hand. Soon she completed her 200 hour Hatha Yoga Certification under Master Teacher Karin Stephan and began teaching immediately. She continued her education through workshops and teacher trainings with Tias Little, Roger Cole, Dr. Ray Long, Durga Das, Elise Browning Miller, Krishna Das, and also received a 500 hour certification with Lillah Schwartz in 2014.
Today she teaches several classes a week and hosts several workshops a month. Since she is rarely serious, her classes are filled with smiles and laughter, which for her is the best possible payment!
Heather Benton instructs the following:
Emphasizing stillness, Yin Yoga is a complementary practice to more dynamic yoga styles. Students will passively hold postures for several minutes in order to place a safe and positive stress on the deep connective tissue. It restores and maintains the natural mobility of the joints and opens the body's meridian system, which helps to support emotional equilibrium. All levels.