Doreen Aitken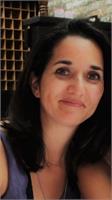 Doreen Aitken, RYT200
Doreen was introduced to yoga at a local fitness center and fell in love with the stillness of the mind and breath control during the asanas. Not knowing the truest sense of yoga she joined ToLY and was introduced to chakras, lines of energies, prana, and much more. Intrigued and curious she decided to take the 200 hour yoga teacher training at ToLY and is how teaching Hatha because of her love to share and guide others in a meaningful practice.
Doreen Aitken instructs the following:

Hatha yoga is a powerful tool for self-transformation and a path toward creating balance. It asks us to bring our attention to our breath, which helps us to still the fluctuations of the mind and be more present in the unfolding of each moment. In our physical bodies we develop a balance of strength and flexibility. We also learn to balance our effort and surrender in each pose. These classes blend standing poses, seated/floor poses, meditation, and pranayama (breath exercises). This class may also include some active flow or sun salutations. These classes are the great place to find the perfect balance of strengthening and stretching. Some yoga experience recommended. Intermediate level.