Lindy Romez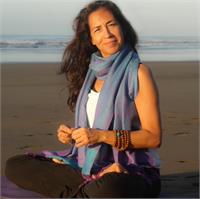 Lindy Romez - E-RYT200, Certified Sound Therapy, Meditation and Reiki practitioner
Lindy, a professional musician found yoga after experiencing a car accident in 2000 that left her with a neck injury and paralysis down both arms. Shortly after the accident Lindy began practicing meditation with sound to assist her in her own recovery, it was several years until Lindy was able to begin an asana practice. In 2011 she completing her first yoga teacher training to better understand what she needed to do to stay healthy with her mind and body. To dive deeper into sound, Lindy studied in India where she discovered the healing properties of sound, vibration and harmony and is certified in sound healing using Tibetan bowls, and other meditation practices that she found was the key that allows the spirit to soar. Lindy is passionate about sharing what she has learned about the healing benefits that beginning a yoga practice can offer. Her relaxed approached and light-hearted personality makes it fun for students to explore the possibilities that practicing yoga and meditation can offer.
Lindy Romez instructs the following:
Emphasizing stillness, Yin Yoga is a complementary practice to more dynamic yoga styles. Students will passively hold postures for several minutes in order to place a safe and positive stress on the deep connective tissue. It restores and maintains the natural mobility of the joints and opens the body's meridian system, which helps to support emotional equilibrium. All levels.




This enjoyable class includes gentle yoga followed by meditation. The first half of this class focuses on physical yoga postures in preparation for meditation. You will use sound, breath, silent and guided meditations. It will invigorate your mind and body in this holistic integration of mindful yoga. All levels of meditation practitioners are invited to join!




A Sound Bath is a deep meditative musical experience played with Himalayan singing bowls, Crystal bowls, gongs, tuning forks, shamanic drumming and chanting. Participants lay on the floor in savasana and let the waves of sound wash over them to experience what some proponents claim that sound bathing calms the overstimulated nervous systems and balances the subtle body. (Also known as the energetic body where our life force energy or prana exists) Sound bathing is said to work both the physical body and the subtle body to help heal depression, anxiety, chronic pain, insomnia. It also deepens meditation and sparks creativity.