Jen Donovan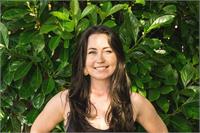 Jen Donovan RYT 200

Jen came home to yoga several years ago after seeking relief from damaging physical and psychological patterns. What she found through her practice changed her on a fundamental level. She completed her teacher training with the Silver Lotus Training Institute and Involution Yoga in the coastal town of Lewes, DE. Inspired by her community, Jen felt the call to assist others embarking on their own yogic journeys and taught there. Her personal practice is reflected in her teaching style by integrating ancient philosophy with modern application, creating accessible modifications for all levels, and encouraging introspection within every pose. Jen is a gentle, compassionate, and inspiring guide for those seeking the deeper benefits of a yoga practice.
Jen Donovan instructs the following:
A restorative yoga practice can help you rest, reflect, and refresh. Some props may be used for a supported, restful practice to deeply nurture body and spirit. Restorative Yoga works to heal your body emotionally and physically. You may relish a restorative practice to help you sleep at night or when you simply need to unwind the body and mind completely. A variety of props will assist you in making you feel comfortable in this class. This class is suitable for anyone. All levels.