Katie Brinson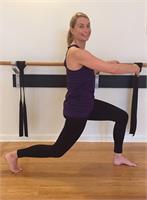 Katie Brinson, SWC Fitness Certification for Barre and Fitour Certification for Advanced Pilates Instructor
Katie spent many years in the dance studio studying ballet and jazz during childhood and her teen years. She continued dance studies at the University of Richmond completing a minor in Dance Performance while also being a member of the University Dancers. After graduation, she spent years working in Theatre Management – this time behind the stage – with positions at the Modlin Center for the Arts, ICM Artists and the Straz Center for the Performing Arts. In 2010, she decided to leave the world of arts administration to devote more time to her family. During this time, she took her first barre class and was immediately hooked! She realized then that in addition to practicing barre, she wanted to teach. In addition to her barre certification, she is also certified to teach Pilates. She hopes you will enjoy her barre classes where she will combine elements of ballet's gracefulness blended with the standard challenge you receive from a barre workout.
Katie Brinson instructs the following:
Barre is an intensive body shaping experience designed to produce reliable results and is influenced by classical and modern dance (though it is not a dance class) and utilizes a barre to achieve optimal positioning. The precision-oriented technique focuses mainly on small, isolated movements within deeply held and challenging postures. Barre is proven to increase metabolism, burn fat, and lengthen tight muscles. Beginners and intermediate levels.