Tunde Koszoru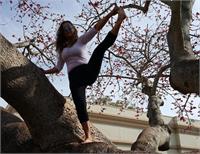 Tunde Koszoru
After starting to dance at an early age Tunde was a professional dancer for several years. Although dance will always be a part of her life she turned to yoga 14 years ago when she received a book from her mother about yoga which has inspired her to further her studies and brought her to teaching various disciplines.
Tunde was born in Europe in the city of Debrecen, Hungary and graduated high school there. She then moved to Budapest, the capital city of Hungary, and earned her B.A. in Physical Education and Sciences from Eotvos Lorand University. She then spent the next two years getting experience, practicing and teaching yoga that earned her certifications for 500 hours of Yoga training, 500 hours of Alternative Movement teacher training, and 300 hours of Massage Therapeutic training all in Hungary. She furthered her studies here in the United States and has also earned certifications as a Practical Yoga Instructor, a Group Exercise Instructor certification from AFAA, and her Barre Instructor certification from IBBFA.
Tunde lives in South Pasadena, Florida with her husband, Steve, and two children, Kevin and Keti.
Tunde Koszoru instructs the following:
Barre is an intensive body shaping experience designed to produce reliable results and is influenced by classical and modern dance (though it is not a dance class) and utilizes a barre to achieve optimal positioning. The precision-oriented technique focuses mainly on small, isolated movements within deeply held and challenging postures. Barre is proven to increase metabolism, burn fat, and lengthen tight muscles. Beginners and intermediate levels.