Shoshana Shay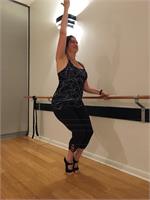 Shoshana Shay, IBBFA
Shoshana was born in Pennsylvania, graduated from Bryn Mawr College, and in 1997 moved to Florida to work for a nonprofit organization, happily leaving the damp, cold Northeastern winters. As a professional opera singer, she sang extensively in the U.S. and Europe and was one of the first Westerners to perform in Guangxi Province, China. Shoshana became an Authorized Instructor of TRT® in 1986 and continues to teach seminars for stress management and personal growth. She is also a database designer and longtime observer of the evolving interface between people and computers.
Shoshana came to barre workouts from an eclectic background of dance and fitness. She studied the Alexander Technique for physical alignment and optimal posture on stage with Countess Kitty Wielopolska, one of F. M. Alexander's original students. With a lifelong interest in dance, Shoshana has been a member of a folk dance troupe and two different professional belly dance troupes. In March 2012, recovering from a car accident, Shoshana began barre classes and became addicted to barre's combination of fitness, form and flexibility. She brings a passion for the method to her classes and hopes to share that with each student.
Shoshana Shay instructs the following:
Barre is an intensive body shaping experience designed to produce reliable results and is influenced by classical and modern dance (though it is not a dance class) and utilizes a barre to achieve optimal positioning. The precision-oriented technique focuses mainly on small, isolated movements within deeply held and challenging postures. Barre is proven to increase metabolism, burn fat, and lengthen tight muscles. Beginners and intermediate levels.