Bethany Peabody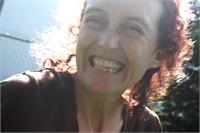 Bethany Peabody, E-RYT200; RYT500
Bethany loves teaching beginners and students with a beginner's mind. She has a fascination with the inherent wisdom of the body, and invites her students to come explore their inner wisdom. In her classes, she strives to create a safe space where students can question, explore and connect more deeply with themselves. She strongly believes that the pose needs to fit the student, not vice versa. To this end, she encourages the use of props to create the feeling invoked by Patanjali's Sutra: 2:46: "Sthira sukham asanam. - A steady posture with the sweetness of ease running through it." She is passionate about the work of her teachers: Karin Stephan, Deborah Wolk and Lillah Schwartz. Her yoga education includes in-depth training on the therapeutic applications of yoga.
Bethany Peabody instructs the following:
A restorative yoga practice can help you rest, reflect, and refresh. Some props may be used for a supported, restful practice to deeply nurture body and spirit. Restorative Yoga works to heal your body emotionally and physically. You may relish a restorative practice to help you sleep at night or when you simply need to unwind the body and mind completely. A variety of props will assist you in making you feel comfortable in this class. This class is suitable for anyone. All levels.