Kathy Perna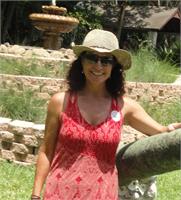 Kathy Perna LRY 200, Chair Yoga Certification

Kathy's journey began originally in Providence R. I. and settled her in St. Petersburg for the last 30 years. It wasn't long before Kathy became a Yoga enthusiast once she understood the connection between stress in the workplace and balancing everyday life. With the support of her wonderful family she became a certified instructor in 2012 and while still in the workplace enjoyed teaching fellow employees the great benefits of yoga practice. She recently retired from the financial industry after 20 years and opened a small property management firm with her husband and wants to contribute to teaching a practice of "following your heart." She brings a soft yet fun style that will be sure to delight you in your personal yoga practice.
Kathy Perna instructs the following:

Hatha yoga is a powerful tool for self-transformation and a path toward creating balance. It asks us to bring our attention to our breath, which helps us to still the fluctuations of the mind and be more present in the unfolding of each moment. In our physical bodies we develop a balance of strength and flexibility. We also learn to balance our effort and surrender in each pose. These classes blend standing poses, seated/floor poses, meditation, and pranayama (breath exercises). This class may also include some active flow or sun salutations. These classes are the great place to find the perfect balance of strengthening and stretching. Some yoga experience recommended. Intermediate level.




This class is ideal for almost all levels of physical fitness - from the beginner to advanced, or younger to older student - or simply those seeking a more active lifestyle. As we allow ourselves to take our time in a slower-paced yoga practice, we find that our muscles become more supple, our breath deepens, enlivens, and invigorates, and our entire being shifts towards a state of greater balance.


Liberal use of yoga props will be demonstrated throughout the class. But since this is a moderately active and "flowing" style of yoga, if you are more physically fit or experienced you can forgo the use of some props and aim for a more challenging workout.

Stay at your own pace, do only what you feel comfortable with, use yoga props, and take breaks whenever YOU need them. Variations will be given for each posture so that the student can tailor the practice to his or her needs, abilities, or physical limitations. Intermediate intensity with some yoga experience recommended.