Randi Krueger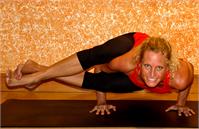 Randi Krueger, 500hr Yoga Educator, Pilates Instructor, Awarded Master of Fitness Design, Massage Therapist
An avid traveler, nature lover and aspiring surfer, Randi has had the opportunity to experience yoga all over the world with top teachers in their respective fields. While her primary study has been in the jungles of Costa Rica, she attended a month-long Ashtanga, Ayurveda & Tantra in Bali and a 10-day Vipassana Meditation course in India. Randi's desire to see the world and her love of adventure led to her living in the Middle East for 6 years - a huge learning experience for sure!
Her style is Interdisciplinary, incorporating a variety of traditions to create a fun, dynamic class. As a trained massage therapist and chronic pain patient herself, she understands the importance and benefits of correct alignment & mental stability. Equally integral to her practice are pranayama and meditation. Randi believes a well-rounded practice follows the 8-limbed approach and strives to create a safe space to facilitate the generation of yoga.
Randi Krueger instructs the following:
As TRX stands for 'total body resistance exercise,' it is aimed at developing your overall body muscles and strength. The exercises done are a balanced mix of high and low intensive workouts that focus on development of strength, agility and body stability simultaneously.




TRX is a strength, balance and mobility training system that leverages gravity and bodyweight. The TRX Plus class will focus on stability, flexibility and coordination to deliver a quick and effective total body workout. Training is complemented with targeted yoga stretches for a balanced program that offers effective conditioning and proper recovery methods. Be prepared to sweat to upbeat music and strengthen in this lively and moderately paced class.




Pilates is a system of exercises that engage the mind and condition the total body. The blend of strength and flexibility training improves posture, reduces stress and creates long, lean muscles without bulking up. Pilates takes a balanced approach so that no muscle group is overworked and the body moves as an efficient, holistic system in sport and daily activity.

Use the design of your body to help you through the movements in this workout designed to help you find your place of strength so you can maintain your alignment during each exercise.