Randi Krueger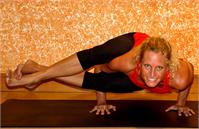 Randi Krueger, 500hr Yoga Educator, Pilates Instructor, Awarded Master of Fitness Design, Massage Therapist
An avid traveler, nature lover and aspiring surfer, Randi has had the opportunity to experience yoga all over the world with top teachers in their respective fields. While her primary study has been in the jungles of Costa Rica, she attended a month-long Ashtanga, Ayurveda & Tantra in Bali and a 10-day Vipassana Meditation course in India. Randi's desire to see the world and her love of adventure led to her living in the Middle East for 6 years - a huge learning experience for sure!
Her style is Interdisciplinary, incorporating a variety of traditions to create a fun, dynamic class. As a trained massage therapist and chronic pain patient herself, she understands the importance and benefits of correct alignment & mental stability. Equally integral to her practice are pranayama and meditation. Randi believes a well-rounded practice follows the 8-limbed approach and strives to create a safe space to facilitate the generation of yoga.
Randi Krueger instructs the following:
The same yoga postures can be used in many types of classes, but perhaps with different emphasis. Some may focus on flowing movement and others on breath. Some may offer physical challenges of both strength and balance, while still others will help gently calm a stressed body-mind.
This class combines these different aspects of yoga, not all at once, but with a changing emphasis as the class unfolds. These areas of focus are woven together by fundamental principles such as growing our range of motion in both body and mind, and observing your practice with less judgment and more kindness toward your Self.


Classic Yoga allows students of different experience levels to practice without comparison, providing options to make postures less or more challenging as appropriate for each student. Please join us for a new experience each time! All levels.