Jim Long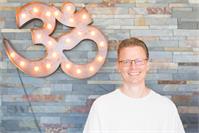 Jim Long, General Manager
Jim is a true native Floridian. Born and raised in the St. Pete area, he has worked in many different arenas from Funeral Services to IT and threw in some Traditional Chinese Medicine, permaculture and construction work along the way.
Jim's introduction to yoga came about two years ago when his partner began taking classes and eventually decided to become a yoga instructor. Initially his practice involved diving into the mindfulness of the yoga tradition which has led him to a much more peaceful and accepting way of life. Since then he has begun exploring the benefits of the physical aspects of yoga and has found an even more profound mind and body connection which has led to the easing of long term physical ailments, as well as a deeper mental and spiritual peace.
Jim Long is currently not instructing any classes.