Linn Sennott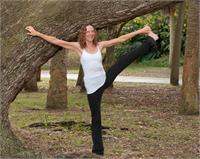 Linn Sennott, PhD, E-RYT200, E-RYT500, Lead Teacher RYT200, Lead Teacher RYT500

Linn has been a yogi for 30 plus years and a teacher for 15 years. She accomplished her 200-Hour training at the Kripalu Center for Yoga and Health in Massachusetts and her 500-Hour Teacher Training at Living Room Yoga in St. Petersburg, Florida. Linn innovated "Yoga on the Ball with Weights and Bands" using large exercise balls, light weights, and exercise bands for rapid gains in strength and flexibility. She produced a DVD of her work combining light hand weights and yoga.
Linn is an experienced workshop leader, having frequently led a popular workshop on Yoga Nidra. Linn developed "Heart Energy Yoga!" (HEY!), a four-session series to activate and integrate our chakras — which are powerful energy centers. The HEY! Participant experiences a unique series of specially selected yoga postures with effective energy releasing and forgiving processes to achieve integration through their heart's center. Linn trains yoga teachers to bring the transformative HEY! modality to their students. She authored the brief book "Heart Energy Yoga!"
Linn's classes have a meditative and inward focus with emphasis on listening to the body and breathing. She presents options so the postures work for every body, while providing a satisfying challenge.
Linn's profession as a university mathematics professor spanned 30 years. Now in her 72nd year, she enjoys an expansive second half of life assisting individuals, teaching, and leading groups and workshops.
Linn Sennott instructs the following:
The same yoga postures can be used in many types of classes, but perhaps with different emphasis. Some may focus on flowing movement and others on breath. Some may offer physical challenges of both strength and balance, while still others will help gently calm a stressed body-mind.
This class combines these different aspects of yoga, not all at once, but with a changing emphasis as the class unfolds. These areas of focus are woven together by fundamental principles such as growing our range of motion in both body and mind, and observing your practice with less judgment and more kindness toward your Self.


Classic Yoga allows students of different experience levels to practice without comparison, providing options to make postures less or more challenging as appropriate for each student. Please join us for a new experience each time! All levels.