Gail Newfield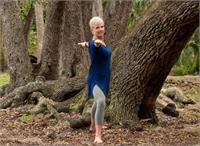 Gail Newfield, E-RYT200, E-RYT500, YACEP
Gail believes you should practice yoga every day, throughout the day, to create a healthy balance in your life even if it is a simple as stopping to breathe properly and relax the mind. She will educate, inspire, and motivate you to achieve optimal health and balance through your practice as she has done.
In addition to her Yoga Alliance certifications, she is also a restorative yoga specialist, fitness instructor and cancer survivor. Yoga is her love and she studies authentic healing yoga principles daily. Yoga for cancer patients is her passion since she has experienced first-hand the reduction of side effects for herself and her cancer survivor students, Wellness Warriors™. Gail studied Yoga for oncology patients with Dr. Sarah Rausch at H. Lee Moffitt Cancer Center in Tampa and Dr. Leonard Cohen at MD Anderson Cancer Center in Houston.
"Food is thy medicine and yoga is thy prescription for a life of inner peace and optimal well-being." Gail Newfield
Gail Newfield instructs the following:
This hatha yoga class on the mat, uses safe modified yoga postures, to increase flexibility and strengthening postures with resistance to improve bone health. Posture improvement, alignment, core strength, and balance with movement that focuses on the back, hips and joints. Perfect for men and women, all ages.

*Already have Osteoporosis? Please get approval from your physician before taking this class.




A restorative yoga practice can help you rest, reflect, and refresh. Some props may be used for a supported, restful practice to deeply nurture body and spirit. Restorative Yoga works to heal your body emotionally and physically. You may relish a restorative practice to help you sleep at night or when you simply need to unwind the body and mind completely. A variety of props will assist you in making you feel comfortable in this class. This class is suitable for anyone. All levels.




Fascia is flexible, connective bands around and within muscles and cells, similar to the white webbing underneath the peel of an orange. Stress, trauma to the body, surgeries, and illness create tremendous pressure and/or chronic pain on the fascia system, muscles, and joints.

In this class we will use yoga postures, tools, and techniques to help you to release pressure in the fascia. We will create an environment for releasing the fascial tension for healthier, more relaxed movement in order to promote a sense of balance in the mind and body.





Yoga and movement can enhance quality of life as a complement to medical treatments. In this mat yoga class, you can learn how to relieve some common side effects, during and after cancer treatments. We will focus the mind, breathe deeply and move gently to renew the mind, body and spirit.





This restorative yoga practice makes yoga accessible to everyone using a chair for warm up then moves to the wall. You will practice postures that focus on lengthening/toning the muscles while improving flexibility, joint mobility, posture, balance, core strength and circulation. This slow-paced class is perfect for those who are challenged with sitting crossed legged, balance, low back, hips, knees, or chronic tension. We will focus the mind, breathe deeply and move gently to renew the mind, body and spirit.

Chair to Wall Yoga is also good for those who sit at a desk all day, athletes, and/or travelers who can learn how to relieve stress, tension, and weariness from the rigors of work, sports training or travel while improving circulation and maintaining energy. This is NOT your Grandmother's chair class.