Jill Perry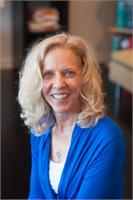 Jill Perry, Founder, E-RYT500, YACEP

Jill Perry is the founder of Tree of Life Yoga. After spending 25+ years in the insurance and financial services fields, Jill opened ToLY as a result of experiencing personal transformation from a yoga practice that provided relief from chronic back pain as well as managing stress. Jill has years of teaching experience during her years in a corporate environment and also studied and taught group fitness classes, spiritual texts and studies, as well as providing insurance education and Continuing Education to colleges.

As a result of her belief that yoga and holistic fitness is for every body and everybody, she set about building a center that offers classes suitable for all levels of yoga, beginner to advanced, as well as meditation, barre, Pilates, Ayurveda, personal training, private and small-group instruction. Coming from a place of her years of experience in corporate training and as an adjunct instructor she developed and teaches, along with a staff of six experienced and well-educated yogis, both 200 and 500 Hour Yoga Alliance certification programs, as well as developing and teaching continuing education for yoga teachers, workshops, series classes, and master classes.

Jill's public classes offer a blend of flow, meditation, pranayama, and a connection to Self. She loves teaching students who are seeking to go deeper into their practice.
Jill Perry instructs the following:

This class focuses on gently awakening the body, mind, and spirit through a variety of postures that are linked to the breath. The light-to-moderate playful flow is slow and meditative, fluid and heart-opening and builds internal warmth. The flow is followed by sequencing to continue to open and release. Just the right thing for starting off Sunday. New-to-yoga and advanced practitioners are welcome; yoga experience recommended. Accessible for most levels; intermediate intensity.




This class combines tools that will take you and keep you on a path to better health and wellness. Strengthen|Restore yoga's main focus is on strengthening and for those who are looking to increase strength and/or maintain ease of movement. It will include postures that focus on strengthening and layer gentle and restorative postures for balancing. Classes feature a variety of props including occasional use of weights, stability balls, etc. This class is also good for those who do athletic training. Intermediate level; yoga experience recommended.




Come join us for a class that will leave you refreshed for just about any New Year's Eve activity. Enjoy a gentle and relaxing flow, postures designed for release, pranayama, mindful meditation and a ritual releasing of 2017. All levels of yoga practitioners.





Join us New Year's Day with this gentle yet vigorous flow class that is specifically designed to detoxify your body and mind. The poses and breathing techniques are sequenced to boost the immune system and renew the digestive system through the detoxification process. All levels.